Up-and-coming Country star Chelsea Evans is about to make the biggest step in her career yet.
The 18-year-old Dunfanaghy girl is building up to the exciting launch of her debut album next week on Friday 20th January.
The album is available for pre-order now and features 13 musicians and top hits such as Past the Point of Rescue, Home to Donegal and Jolene. And fans are in for a true treat on Track 10, Where I Belong, which was written by Chelsea herself.
A party like no other has been planned at the Shandon Hotel to celebrate the new album launch on 20th January, with Chrissy Mac and special guests appearing at the soirée.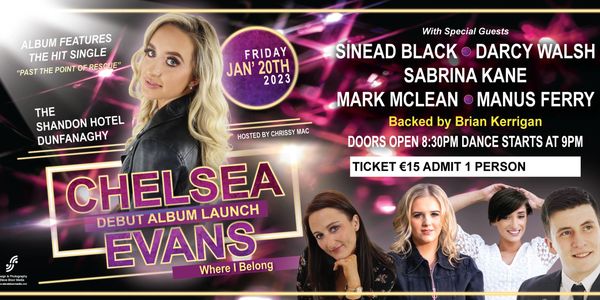 All are welcome to dance the night away with top talents including Sinead Black, Sabrina Kane, Darcy Walsh, Mark McLean and Manus Ferry, all backed by Brian Kerrigan. Tickets are €15 and available at chelseaevansmusic.com, or at the door on the night.
Chelsea has been singing and recording music from the age of 12, when she released her first 4 track E.P along with numerous singles that were also placed #1 on the iTunes Charts. Throughout her teens, she has been tipped by industry insiders as the next big thing in Irish Country Music. Her career highlights include singing with Lisa McHugh in the Millennium Forum in Derry.