Beauty columnist Kerry Harvey recommends the best products for removing hair from any part of the body.
Our Irish weather is so very unpredictable and if you're like me, you'll hate being caught on the hop minus a waxing appointment to tame those legs of yours into perfect pins!
These spurts of fabulous weather have gotten me thinking about hair removal in general and what products and bathroom cabinet 'must-have's' are great to have on hand.
Whether it's a last minute night out or a sunny day shopping airing out that fabulous summer dress, you'll never be caught out again!
Tweezerman Easy Finish Facial Hair Remover | Beautybay.com | €14.20
This is a fabulous inexpensive quick and efficient method of at home hair removal for the face.  The Tweezerman Easy Finish Facial Hair Remover is travel-friendly and simple to use – push the handles together and the coil then gently and painlessly removes facial hairs from the root for a smooth, prolonged hair-free complexion! Great for all skin types including sensitives skins and great all over your face
Jolen Mild Cream Bleach | Boots.ie | €5.99
I've been using Jolen for years – I only use it 2-3 times a year and I simply use this on my upper lip and sometimes on the facial hair near my ears! I'm very dark haired but lucky enough to have fine hair so I don't need to use this much, but when I do, the results are great and last me quite a while.
My primary reason for using this product is I've found anytime I have waxed my face, little tiny white heads appear (I've very sensitive skin) and I look like I've a terrible rash in the waxed area for up to a week post-wax. Not attractive at all!
Mix the product as instructed, pop on the problematic area, and wait ten minutes, then wash off and the hair will be fairer – occasionally I may leave it on longer if fading the hair in my side-burn area.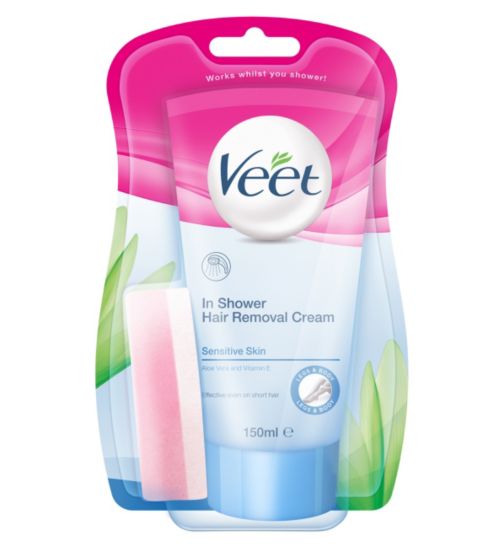 Veet In-Shower Cream | Boots.ie | €6.99
Don't have time to be faffing around, then a hair removal cream may be the one for you!
Pop the cream on and leave for a minute before you get into the shower.  Then jump in, do all your normal showering bits and bobs, and remove the cream using the little sponge supplied approx. 10mins into your shower!
You'll have fabulously soft hair free legs for up to 4 days! Great on legs, bikini and underarms! Totally fuzz-free in minutes!
Veet Wax Stripes | Boots.ie | €6.33
Personally, I'm a waxer! I love that fuzz-free feeling right after I've been waxed and how smooth everything is for up to 6 weeks!
I've been waxing my body hair for years now, so I don't tend to wax as frequently now, as my body and leg hair especially, has become much finer. It doesn't grow as quickly and I even now have large patches where there's no longer hair growth at all – YAY!!
So for me, when I'm caught on the hop, I occasionally use wax strips to remove any patches of hair quickly and efficiently! Wax strips are easy to use, just pop them over the hair you want to be removed, rub over for 10-20 secs to warm the wax and adheres to the hairs for fast removal, then pull the strip in the opposite direction to your hair growth (ie your leg hair grows down, you pull up!) and that's it! Simply moisturise or use an aloe vera product to sooth the skin and off you go!
Wilkinson Sword Quattro For Women Bikini Razor | Boots.ie | €15.49
Not only a great razor, but this fabulous little tool also has a trimmer for your bikini area! It comes with a little wall mount so it's on-hand when you're in the shower!
The best way to shave off hair is to warm the skin when in the shower – easy to do in a medium heated stream of water on the skin, add a little saving foam and begin to remove the hair by shaving upwards against the hair growth. Don't push the razor down let it lightly run up the leg to ensure 'knick-free' ankles and knees!
It's not a must to have all of the above but keeping one or two on hand will come in handy.  If you're lucky enough to be relatively hair-free a good pair of tweezers are probably the only thing I need recommend for you for any unruly random hair that needs pulling!
Please note:
If you have never used any of the above products, always carry out a patch test to ensure you are not allergic up to 48hr prior. If you have any reaction do not use!  Do not lay out in direct sunlight for at least 48hr post treatment – the skin will be very sensitive to sunlight after any type of hair removal and will burn very easily.
If you have any beauty related questions, drop them my way via info@kerryharvey.ie or PM your message to my Facebook page Kerry Harvey Designs! For daily updates on all things beauty, feel free to join me on Snapchat – search @kharveydesigns or scan the code! Enjoy the summer sun K x