Makeup artist Kerry Harvey selects her top versatile products for packing light on your next getaway.
It's that time of year again! We're getting an itch to book ourselves a trip away, sip cocktails on a golden sanded beach and literally leave all our cares and worries behind.
If you're like me, then you'll always pack too many shoes but at least I'm a pro at packing minimal when it comes to my makeup.
Here are my top versatile products to have you not only looking like a naturally bronzed goddess but will also help keep those baggage limits and lbs down so you can pop that extra pair of heels in.
This Works Perfect Look Skin Miracle | Natural Coverage | €37.00 | Eske Pharmacy
If you're looking for that instant natural glow that adds a 'hint of a tint' to your skin, and is super hydrating during the day or even after a day in the sun, This Works Perfect Look Skin Miracle is the one for you.
A tinted moisturiser that can be worn alone or indeed, as a beautiful base for your evening makeup!
Packed with the skin brightening vitamin C and anti-inflammatory vitamin E, this is the perfect product over your normal SPF for a tanned tint to your face neck and décolletage. Perfect for the girl that loves to read under the shelter of the palm tree but still feel you have a little colour on your cheeks.
It also has hyaluronic acid which acts like a sponge and soaks up moisture, in turn, plumping out the skin for a youthful fresh glow. Perfect teamed over your holiday SPF for walks along the beach or promenade under your fabulous sun hat.
New Cid Cosmetics London 'i-tint' Tinted Moisturiser SPF 15 | Medium Coverage | €41.00 | www.myshowcase.com
I love this product as it leaves my skin fresh and dewy with a hydrated faintly golden glow.
The 'i-tint' is the perfect alternative when on your holibobs to your regular foundation – it's breathable yet leaves a beautiful coverage to camouflage any discolouration with a lovely fresh luminosity.
Loaded with skin-nourishing antioxidants, essential oils and advanced colour pigments, this luminous formulation is enriched with jojoba & sunflower oil which boosts moisture, giving you a youthful glow as well as protecting from the sun with SPF15.
Suitable for normal and dry skin types and my favourite for breathable coverage on summer evenings out with a few cocktails.
Vita Liberata Trystal Minerals Powder | €37.50 | www.boots.ie
I recently purchased this product and I can not get enough of it! This little miracle in a pot will not only give you a stunning buildable bronzed look, it actually is the world's first self-tan bronzer.
Yep, you heard me…while you wear this product it lightly begins to tan your face, neck or indeed wherever you place it, so that your skin looks naturally yet flawlessly glowing after removal. This oil-free formula leaves your skin looking soft and healthy and can be worn alone or over your foundation – you can even use it to enhance your natural body contours or contour your face beautifully.
Top tip!
Before you apply, make sure your skin is oil free and that your moisturiser has truly sunk into your skin. Reason being, the bronze powder tends to stick on application to any oily areas and look mucky or dirty!
To combat this, simply pop on a layer of translucent powder before application for a sheer velvety base and the mineral powder will blend seamlessly. I'm sold on this as it even blurs out my enlarged pores from my oily t-zone!!!
MAC Extra Dimension Skin Finish in Superb | €31.50 | MAC Counter Brown Thomas
This is a beautiful multi-purpose product! Not only can you use it on your face to highlight your cheekbones, add a pucker to that pout on your cupids bow or lightly brush along the bridge of your nose to add dimension, it also doubles up as a gorgeous cream eyeshadow.
This beautiful bronze/pewter shade can be applied lightly by feathering on with a fluffy blending brush or use your finger and pat in layers to build a stunning metallic lid. Very 'on-trend' right now!
Take a contour brush and add this highlight your shoulders, along with the front bone on your lower legs, and your collar bones for that added sun-kissed look.
Clarins Joli Baume Eclat Du Jour | €14.99 | McElhinneys Stores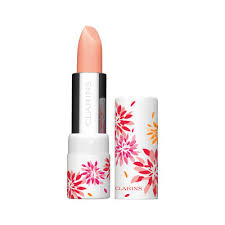 A beautiful balm that not only hydrates your lips but also tints them. I pop one coat on during the day for a light subtle tint but add more and amp up that tint to a gorgeous plumish shade for nighttime wear.
No need to carry blush when you have this little bullet in your bag!
Simply add some to your middle fingers and begin to tap and work the product onto the apples of your cheeks lightly moving up in the direction of the top of your ear for a fabulous flushed and almost heavenly fresh look to your complexion.
I suggest you pop this on your cheeks after you apply tinted moisturiser or foundation for a truly natural youthful glow.
All you need now is your favourite mascara and that's your holiday makeup bag complete.
If you have any beauty related questions, drop them my way via info@kerryharvey.ie or PM your message to my Facebook page Kerry Harvey Designs. For daily updates on all things beauty, feel free to join me on Snapchat – search @kharveydesigns or scan the code. Enjoy the summer sun K x